Tub To Shower Conversions
Would you like a tub to shower conversion in Minneapolis? A shower that lasts a lifetime? A non tiled grout free shower! That's as durable as it is beautiful? The tile free bathing area provides better water resistance. Having no tile grout reduces the chance for mold and mildew growth. Tile grout needs sealing and maintenance. Our Onyx Collection tub to shower conversions are maintenance free. Our tub to shower conversion installers in Minneapolis are experts. Installing affordable seated and unseated showers to replace your tub. Have your tub replaced with our walk in shower remodeling services.
Replacing Your Tub With Our Tub To Shower Conversions
Thinking of replacing a bathtub with a walk in shower replacement?
Do you gain value by switching your bathtub to a replacement shower? Home Trend Studies state that over 70% of people prefer a shower to a bathtub. Keep in mind most real estate agents recommend one tub in the house. This is for bathing children, dogs and whatever else you may want to wash. That means two tubs is seen as useless to 70% of all potential home buyers in MN. The tub-less bathroom is ever more popular than before. With Onyx Collection ranking at the top of the list for replacement showers.
If you don't use a bathtub, a shower might be practical and functional. Call us to give your home some common sense again. Our low priced Minneapolis tub to shower conversions are beautiful & easy to clean. You'll get a better shower warranty than any enclosure on the market. And we won't break your MN bathroom remodeling budget to get it for you.
Minneapolis Handicap Accessible Shower Enclosures
Looking for a handicap accessible shower in Minneapolis?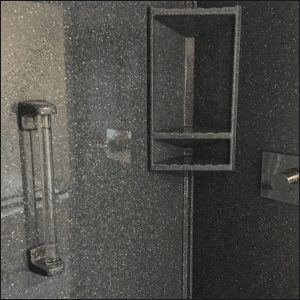 Tub to shower conversions allow our bathroom remodeling clients to age with their homes. Though we do offer tub replacements, a shower is easier to access. Our Minneapolis tub to shower conversions come with many options. We install easy to access glass shower doors. Ramped handicap shower bases installed that are wheelchair accessible . Matching shower bench seating, shampoo caddies and grab bars. Most pre made showers have built in seats. This limits the height of your shower seat. Unlike most other shower enclosure brands, we can set ours at any height. Providing  safe wheelchair and handicap accessible shower enclosures.
Saving Time With Tub To Shower Conversions
Our lifetime guaranteed tub to shower conversions are non porous & easy to clean! Making them mold and mildew free. Our MN shower and bath wall systems even repel soap scum. Now this saves time! Save time cleaning and spend your time enjoying life. On top of that, taking a shower is faster and easier than a bath. We think about it like this.- In the time it takes to fill a bathtub you could be through showering. Walk in showers with doors are great but they take a long time to drain. Tub to shower conversions are easy to us and a great option for a handicap accessible shower enclosure.
Who are we kidding, you don't need us to tell you showering is faster. What we want you to know is you're in good hands with us. We have a A+ BBB rating, and many excellent customer reviews. Our goal is to build a relationship with our customers. A relationship built on trust and honesty. We understand that your home is an extension of who you are. It should define you and be a place you like to spend your time. A shower is a part of your bathroom in that home. It is a piece of your home that reflects who you are. It should be designed as best as possible in the space you have available. Many times shower space may be limited. That doesn't mean you have to sacrifice function or style. We can custom locate the drain on your shower base. Letting us enlarge the area with little plumbing costs and a larger shower pan. Thus increasing the footprint of your shower. With a Minneapolis handicap accessible shower or one of our tub to shower conversions.