New Deck Construction: If You Build it, They Will Come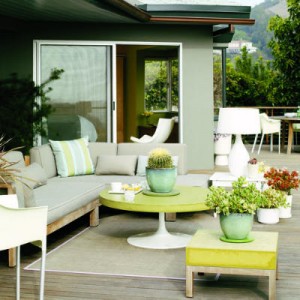 Spring, its finally here! Oh, wait, that's right, we live in Minnesota. Land of ten thousand lakes and 7 full months of winter. So I guess Spring is almost here.  Like most Minnesotans you're probably looking to take full advantage of the warm summer months once they arrive. Maybe your like me, making the most of my 5×5 cement patio, or maybe your someone who has been waiting for the right time to turn that back yard into the outdoor living space you've always wanted. Can't you just smell the smoke coming from the BBQ?
But building a deck is no small feet. Even for the handiest of homeowners, there is a lot to consider; starting with design. Now a days, skies the limit with decks. The choices are seemingly endless, so where does one start?
Below are 5 things you should absolutely consider before starting your deck construction project.
1. Know Your Material Options: Maybe you want real wood but don't like all the up-keep. Or perhaps you want a low maintenance deck that retains its beauty year after year but aren't sure you can afford using synthetic materials. Its wise to consider both function and form when choosing your deck construction matierials. Do your homework and when in doubt, don't hesitate to call in the experts for a little advice.
2. What Do You Plan To Do On Your Deck? Are you planning to entertain, or simply have a quiet family dinner? Do you want a space to relax or maybe a fire pit to spend your evenings by. There is no right or wrong answer, but which ever yours is, make sure you design your deck with those activities in mind.
3. Map it Out: It can be difficult to visualize the amount of yard space a deck can take up. So use stakes and string to outline your deck, to ensure it scales with the size of your yard as well as your home.
4. Follow the City Rules and Regulations: Anything you need to know about size limits to structural requirements are covered by your local codes. If you live under a homeowners association, they too might have guidelines on aesthetic choices, materials and finishes. Be mindful that violations can set you back and be quite costly.
5. Safety First: When installing your ledger, be sure that it is done properly. As this is a weight-bearing board that connects the deck to your house, if it isn't installed properly, your deck could collapse leading to injury. It must be bolted, not nailed to the homes structure and fully flashed to keep the wood from rotting. For more info check out How to Build a Simple Deck for step by step instructions on how to install and protect the ledger.
Hopefully these tips will help you on your way to constructing a great outdoor space you and your family will enjoy for years to come, but remember its never too late to call in the pro's!
Do you have any tips or tricks homeowners should consider before building a deck? Do you have a deck construction disaster story that you'd like us to share? Leave it in the comments section or connect with us on Facebook!
[teammember name="Shawna Kenyon" position="Contributor" twitterurl="https://twitter.com/shawna0527″ [/teammember]